Follow the steps in

the design and manufacture

of our instruments
Samuel Tailliez initiated the rebuilding of historic Stroh instruments coming back from a trip to Rumania with a trumpet-violin from the area of Bihor in his luggage.
Later, we had the opportunity to buy replicas of Stroh violin from Burma. Then we decided to replicate the same mechanical amplification system for cello and double bass.
Through our research, we discovered a lot of other experimentations on transforming string instruments into horn-amplified string instruments. All these experimental instruments are cousins of Stroh instruments and have their peculiarity. Once knowing that Stroh-bass en Stroh-cello had already been established, we realized that it would be too expensive to buy original ones.
A lot of encounters and many discussions later, we built our Stroh-type instruments. Sharing information was crucial to the success of this "rebirth".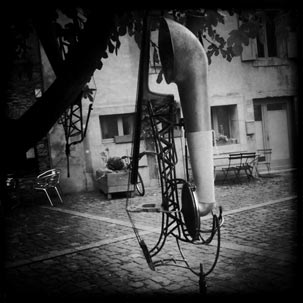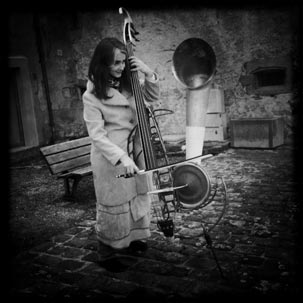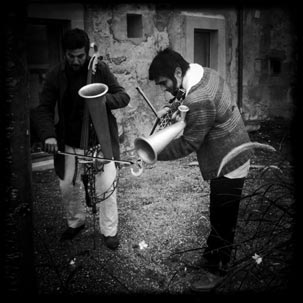 Our instruments are prototypes; we continue to work on it to carry on with this acoustic experimentation.
The modifications concern mainly the "Bascule bridge – resonator – horn" system. It consists for example of changing of membrane thickness and shape, changing of resonator shape…
All the new ideas and experiences about it are more than welcome…
This atypical instrument-manufacturing project involved various people, both on conception and implementation sectors. We would like to mention and thank them here:
Laurent Cadilhac – Metal framework
Alain Pignoux – Art of stringed-instruments making
Christophe Boutin – Conception and machining of the resonators
Hubert Champigny – Wood mould design for the manufacture of the resin moulds
Christophe Perrin – Development of membranes made of composite materials
Olavi Linden – Advices
Musée de la Musique à Paris – Advices
François Gautier – Research and advices
Eri et Jean-Baptiste Goto-Deberne – Measurements on the Stroh-bass of the Musashino's Museum of Musical Instruments, Tokyo
Laurent Hardy – Aluminium membrane testing
Patrick Prud'homme – Handle cutting